Susan Boyle has insisted that she is feeling "fine" after finding an intruder in her house last night.
Earlier today, it emerged that the Britain's Got Talent star had discovered the male on her staircase as she arrived home just before 10pm. He then fled from the property and the 48-year-old called police.
Speaking outside her residence in Blackburn, West Lothian today, Boyle commented: "I'm fine. It's in the hands of the police now."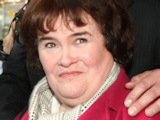 Officers are understood to have detained a 16-year-old last night, but he has since been released without charge.
BBC News reports that police are now appealing for witnesses, describing the intruder as white, between 15 and 16 years old, between 5ft 4in and 5ft 8in tall, with a slim build. He was reportedly wearing a dark jacket and dark trousers last night.
A police spokesman said: "The owner was very distressed to find someone had been within her home and we are keen to speak to anyone who can assist with our investigations."